Getting to know Bezior
---

We bel

ieve

bikes change lives through the freedom of mobility

---



Brand Story
Bezior

e

stablish

e

d in 2018, is a brand of YouSuYi Supply China (HK) Ltd.. Bezior's team is energetic and creative, focused on the R&D, production and sales of lithium-battery electric bicycles. You SuYi (HK) invested millions to establish an electric bicycle assembly factory, frame factory, electrical machinery factory and paint factory, etc. The professional production base is more than 20,000 square meters with over 200 employees. The Bezior team in

China

has 150 employees

,

many are R&D engineers with more than 10 years of experience. Bezior specializes in OEM customization, ODM development, design, production and processing of various models. The products sell very well in the EU and USA.
Hot & Classic in BEZIOR
FAT-TIRE BIKE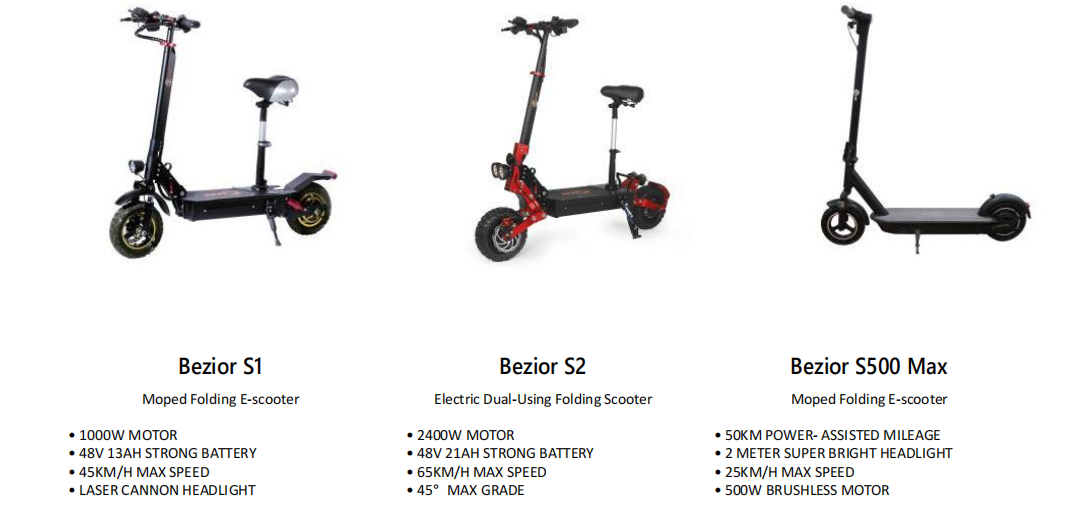 Maintenance & Repair

Tips

1. To ensure that your E-Bike is in the best condition, please maintain and clean it regularly.

2. Regularly check that the tires are inflated correctly.

3. Make sure that quick release, nuts and bolts are tightened.

4. After a period of riding, check that the spoke tension is normal, adjust them as needed.

5. The frame and other parts are made of aluminum alloy. Please avoid friction or collision while using.

6. Do not take apart the motor, battery, or controller yourself. If necessary, take your E-Bike to a professional bicycle technician for repairing.

7. Do not use high-pressure water to clean your E-Bike. Keep water away from the controller, battery and motor.

8. Lubricate the chain, flywheel, kickstand, etc. when necessary.




Service

&

Warranty



•

Customer service



In the rare case that your E-Bike arrives and does not work, repair or replacement is at the manufacturer's decisions. In order to honor the warranty, the following must be followed:

---If your E-Bike is received with a defect, BEZIOR will take care of the shipping fees (at BEZIOR's instruction) and immediately ship replacement equipment or repair the equipment.

---If your E-Bike is in need of repairs, the owner must contact BEZIOR and will receive a Return Authorization (RA) Number and all of the necessary information. BEZIOR will not accept returns without an RA.

---All returns must be properly packaged to prevent damage during shipment. An explanation of the problem or damage and a proof of purchase must be submitted with the return which will be shipped by the buyer.

---The refunds must be processed by customer service and accepted requests by Bezior, any product needs

to be returned to our warehouse before refund.



•

The Warranty

Please look the Bezior warranty carefully in details:

https://www.bezior.com/pages/warranty

.

---If you get a defective product or a quality-problem product, please contact our customer service immediately. Our team will help you and provided an appropriate solution.

---During the warranty period, if the product has major quality problems that affect the normal riding of the bicycle, we will return the goods and refund; if there are small defects, we will give appropriate compensation and provide replacement parts.



---

Certain parts of the equipment are not covered by the BEZIOR warranty due to the fact that normal or heavy use wears them down normally. Examples: tires, buttons, pedals, seats,etc.

---When your bicycle has problems and needs to replace parts, it must be approved by official Bezior customer service team, please contact email: [email protected]

---If the consumer modifies components by him or herself, the return refund policy of the bicycle automatically expires.